Installations
As from January 2018, the Group operates 632 MW, of which 408 MW are for its own account and 224 MW are on behalf of third parties. These wind farms are located in four countries: Germany, France, Morocco and Italy.
These installation areas have been selected for their significant near term growth potential, supported by a legal and regulatory context that favors the development of renewable energies, especially from wind energy.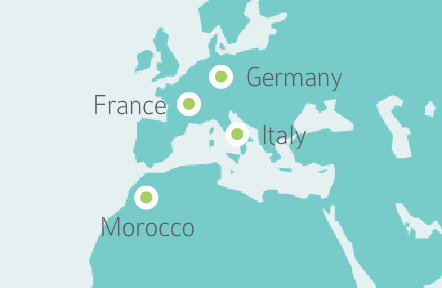 FUTUREN in Germany
Presentation
Germany is the most mature wind market in Europe with the largest cumulative installed capacity.
Total capacity in operation as at January 31, 2017: 496 MW
Theolia Naturenergien operates wind farms over the entire national territory, for a total installed capacity of 496 MW, of which:
139 MW operated for own account,
357 MW managed for third parties.
Contact
Theolia Naturenergien GmbH
Ulmer Straße 4
70771 Leinfelden-Echterdingen
Germany
Tel: +49 (0)7 11 / 2 38 60-0
Fax: +49 (0)7 11 / 2 38 60-99
Web site: www.windparkbetreuung.de
---
 FUTUREN in France
Presentation
Total capacity in operation as at January 31, 2017: 159 MW
Theolia France operates 13 wind farms for its own account, spread across France, for a total of 159 MW.
Contact
Theolia France
77, rue Samuel Morse
Immeuble Alliance II
34000 Montpellier
France
Tel: +33 (0)4.67.58.22.70
Fax: +33 (0)4.67.92.58.61
---
FUTUREN in Morocco
Presentation
In Morocco, FUTUREN operates a 50.4 MW wind farm. The Koudia al Baida wind farm is located in Tétouan, near Tangiers. It comprises 84 wind turbines that were commissioned in 2000.
The electricity produced is sold to the Moroccan Office National de l'Électricité et de l'Eau Potable (ONEE) according to the terms of a long term contract.
Portfolio as at January 31, 2017
Operating capacity: 50 MW
FUTUREN operates the Koudia al Baida wind farm that has a capacity of 50.4 MW.
The site enjoys excellent wind conditions.
Projects under development: 300 MW
FUTUREN and the ONEE signed, on May 31, 2011, an agreement for the joint development and construction of a 300 MW wind farm on the site currently operated by FUTUREN. This project will be developed in two phases:
the construction of 100 MW on the existing Koudia al Baida site, through the replacing of the existing turbines with higher capacity turbines (repowering); and
the addition of a complementary capacity of 200 MW on sites next to this wind farm.
Contact
Theolia Emerging Markets
52 Boulevard Zerktouni
Étage 5, appartement 35
20 000 Casablanca
Morocco
Tel: +212 (0)5 22 49 21 73/76
Fax: +212 (0)5 22 27 45 86
---
FUTUREN in Italy
Presentation
In October 2010, Maestrale Green Energy commissioned its first wind farm in the province of Enna, in Sicily, with a total installed capacity of about 30 MW. The Group owns 51% of this wind power station. The net installed capacity is 15 MW for the Group.
At the end of December 2012, the Group finalized the commissioning of the Bovino wind farm (10 MW for own account). This commissioning brought the operated capacity for the Group's account in Italy to 25 MW.
Total capacity in operation as at January 31, 2017: 25 MW
Contact
Maestrale Green Energy srl
Viale Piave 40
20123 Milan
Italy
Tel: +39 (0)2 80500422