Growth strategy
Organic growth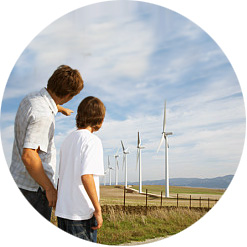 FUTUREN is focusing on France and Morocco as the main vectors for organic growth. The aim of FUTUREN is to double its installed own-account capacities in France and Morocco in the short term.
In France, FUTUREN has a large portfolio of projects in development. Within this portfolio, three projects are at an advanced phase, meaning that they have all the authorizations necessary for construction and operation, for a total capacity of 68 MW. These projects are distributed across France.
In Morocco, FUTUREN develops a 300 MW project, in partnership with the Moroccan Office National de l'Électricité et de l'Eau potable. It is a major structuring development for the Group. This project will be developed in two phases:
The first phase - "repowering" - will consist of replacing the turbines currently operated at the Tangiers site with new-generation turbines so as to raise the installed capacity of this site from 50 to 100 MW;
The second phase will involve expansion of this site onto adjacent land in order to install an additional 200 MW.
The first phase is currently being continued by the Group.
A strategy of co-investment
FUTUREN is pursuing a strategy of co-investment with a view to achieving organic growth by commissioning new wind farms at a sustained pace.
In 2011, the Group created its own investment vehicle, Theolia Utilities Investment Company, in partnership with two major European players in the energy sector, IWB in Switzerland and Badenova in Germany. FUTUREN owns 40% of the vehicle, while the other two partners own 30% each.
In order to limit the amount of equity invested in its wind projects and so optimize its cash position, FUTUREN sells certain projects in its portfolio to the investment vehicle. The partners are contributing 60% of the project equity, while FUTUREN remains the project operator, both building and operating the wind farm, as it does for its wholly-owned projects.
FUTUREN has already sold 68 MW to its investment vehicle, all Wind farms being in operation today.
This strategy of co-investment is particularly well adapted to the Group's position as an independent operator in the energy sector. As a result, FUTUREN can continue to expand with a lower equity contribution.