Case study
The Moulin de Froidure wind farm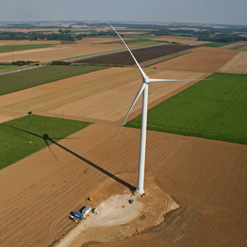 The Moulin de Froidure wind farm, located east of Abbeville, in the town of Coquerel, in the Somme (80) department, was entirely developed and built by FUTUREN's teams in France.
The site contains 6 wind turbines set out in a single line, REpower model MM82, each with a nominal capacity of 2 MW for a total capacity of 12 MW.
Technical characteristics
Rotor diameter: 82 m
Hub height: 80 m
Total height of turbine: 121 m to tip of rotor
The turbines are at least 1,000 meters from the nearest homes.
The turbines are set in the middle of the site in order ensure the greatest distance from nearby dwellings.

An ideal location
Located on a plateau farmland bordering the Somme valley, the site benefits from a particularly favorable location for capturing wind with an average annual speed of 6.7 meters per second at a height of 80 meters.
From design to commissioning
The site was identified in early 2001. Beginning in springtime 2001, an informational and consultative initiative concerning the feasibility of a wind farm on this site was undertaken. In July 2001, the first meetings with the Coquerel municipality, the landowners and farmers were held. Throughout 2002, a great number of studies were carried out, with the help of specialists:
Wind assessment
Avifauna study
Acoustic simulation
Landscape study
Evaluation of grid connection possibilities…
In February 2003, the construction permit was filed. It was approved in February 2006. In November 2006, the turbines were ordered and in March 2007, the construction was initiated. Following several weeks of tests, the site was officially commissioned in the beginning of 2008.
Consultation: A key
In May 2002, FUTUREN organized a public presentation of the draft project. Then, at the end of 2003, a public inquiry was held in the context of the construction permit filing. At each of these steps, everyone, residents, farmers or individuals, were encouraged to communicate so as to design the best project possible for all parties.
The information following commissioning
In line with its initiatives undertaken during the development of the project, FUTUREN wished to continue informing the public after the commissioning of the wind farm. The site was thus rearranged to accommodate public visitation.
---
Photo credit: Balloide photo 2007