Quality and professionalism
Developing wind farms to their highest environmental value
To achieve a wind farm with high environmental value, site selection is critical. It must:
Protect natural zones, landscapes or endangered architectural structures
Preserve protected or classified sites
Preserve historical monuments
Avoid easements (radar, civil or military aviation, etc)
Respect a sufficient distance from residential housing and reduce as much as possible the visual and auditory impact.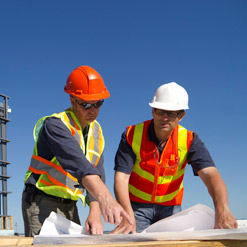 For this, environmentalists advice project managers on sites that present limited impact on the environment.
At the inception of a project, the environmental characteristics of a site are clearly defined and taken into consideration. An impact study identifies the influence the wind farm may have on landscape, flora, avifauna and people present at and near the installation site. Following this study, different lay-outs are evaluated.
FUTUREN's goal is to design wind farms that are perfectly adapted to their surroundings and have as little environmental impact as possible while guaranteeing the technical and financial feasibility of its projects. This entire approach is presented during the public inquiry. If environmental impacts are evaluated before or observed during and after the construction of the wind farm, measures to scale back or compensate are then carried out.
FUTUREN performs an environmental monitoring of all its construction sites and pays attention to the landscape integration of the delivery station by planting trees or hedges or in certain cases by a covering respecting the local building.
In addition to this approach, FUTUREN also takes part in the preservation of the environment through architectural or landscape restoration initiatives, through energy efficiency measures (financing low consumption equipment, insulation, etc) or through reversion to biodiversity by means of local initiatives, such as placing owl nests near an operating wind farm.