Respecting the environment and its residents
For FUTUREN, the preservation of the environment and respect for the population are not obstacles but rather development opportunities and a pledge of the quality of its wind farms. For each project, the Group carries out a detailed impact study that analyzes:
The initial state of the planned installation site
The impact of the project on the natural habitat and landscape
The impact of the project on the human and economic environment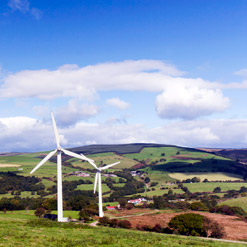 Landscape study
By their height, color and installation, wind turbines impact the visual perception of the land. The sites selected for their installation must preserve the natural zones, habitat or architectural structures, beautiful landscapes, protected sites, historical monuments and protected zones (reservations, Natura 2000 sites).
When the site is selected in respect of these guidelines, the project needs to be designed so that it is in harmony with the installation site and that it limits potential co-visibilities.
Photo montages are then made with the help of software using IGN topographic data to visualize the project of installing wind turbines in the landscape. The software calculates the real size and proportions of the wind turbines by positioning them according to their geographic coordinates. These visual elements allow the local residents to take ownership of the project and thanks to consultation and dialogue, to arrive at an optimal installation of the turbines.
Acoustic study
In order to determine the influence of the noise emissions from the wind turbines on the nearby homes, acoustic studies are carried out by defining precisely the operation of the wind farm and making sure to respect acoustic regulations.
Study on the natural environment
An impact study also allows for a definition of the risks of a wind project on the flora and avifauna. It must be done so as to minimize the impact and if necessary to carry compensatory or impact reduction measures. The installation of the project must for example be done outside the migration path or sensitive zones for nesting birds.