Integrated Group
FUTUREN is an integrated industrial player with operational experts and specialists in all phases in the development of a wind farm project. The skills of the Group's staff cover the entire wind value chain: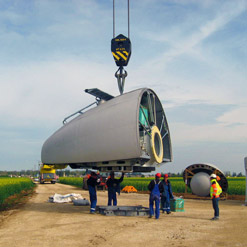 Site prospecting
Project development
Construction and operation of wind farms.
The quality and experience of the teams, in constant progress, allow the Group to improve its operational performance and to anticipate technical advances in an industry that is constantly progressing.
FUTUREN's employees have a significant operational expertise, combined with an experienced vision of the wind energy market. These qualities are essential to successfully complete projects within the planned timetables and budgetary constraints.
In order to optimize its operations, the Group has set up an organization based on cross-management. Each operating expertise is centralized within a dedicated team and available to all Group subsidiaries. This simplified and more efficient organization generates industrial synergies between the countries in which the Group operates.
This organization as an integrated industrial Group is an important asset and a guarantee of the quality of the wind farms that are commissioned. Of all the parties involved in a project, FUTUREN is the only contact point during all the development phases of the project, which ensures perfect control of deadlines and guarantees the delivery of commitments.
Concerns about construction and operation are taken into account from the very beginning in order to optimize the life of a project, from its identification to its completion. The expertise of the Group's teams is present during each different phase of a project.
Being organized as an integrated industrial platform allows the Group to optimize its investments, to control its operational costs, to maximize the performance of its operating wind farms and to grow at almost constant structural costs.