Mission
Preserving the environment over the long term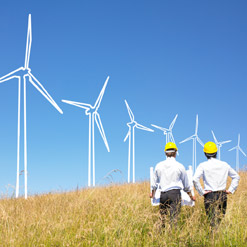 Our priority is to contribute to the preservation of the planet. FUTUREN has become a major player in the wind sector through conviction, in order to develop its capacities for electricity production from wind which in turn will contribute by responding to the growing energy demand all while preserving the environment.
With a total installed capacity of 632 MW at the end of 2018, the annual production of the Group enabled it to cover the annual domestic electricity needs of roughly 360,000 households and to avoid emissions of roughly 448,000 tons of CO2.
Enhancing the value of land
For FUTUREN, a wind farm does more than just produce electricity for the land on which it is installed. It is the opportunity to design a site and to create value on a windy site to meet the needs of the population in terms of electricity. It is also a way to present a modern and ecological image of the site by producing clean energy thanks to innovative technology.
The well thought out selection of a site to install a wind farm allows for the preservation of natural reserves and endangered architectural works, historical or protected sites, or historic monuments all while opting for a location as far away as possible from dwellings.
This selection is subject to a number of environmental and community impact studies in order to determine the risks to the habitat, landscape and residents near the installation site. FUTUREN's goal is to design wind farms that are perfectly adapted to their communities and surroundings, while assuring the technical and financial feasibility of the projects.
For more information on that subject, read our section on sustainable development.