Vision
To respond to the energy challenges of tomorrow, to preserve the future of the population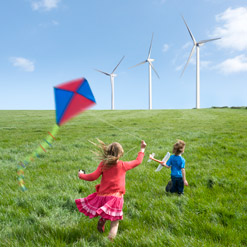 The production of electricity and the development of clean energy sources are more than ever at the heart of the social and environmental challenges of our planet. The stakes are numerous:
The fight against climate change: the increase of greenhouse gas emissions linked to human activity is intensifying the natural greenhouse phenomenon and is heating up our planet.
The increase in the global electricity demand: increasing population, urbanization and industrial development of many countries have increased the energy demand.
The security of energy procurement: many countries are still dependent on non-renewable fossil resources whose quantity is insufficient to meet their needs.
Preservation of mankind's health: many energy sources used today may have disastrous consequences for our health.
So it is about proposing alternative energies that will allow us to preserve the environment and the future of the human race.
FUTUREN is committed to producing energy that respects the environment, thanks to a clean, long lasting and renewable energy source.
Because if reducing energy consumption is everyone's responsibility, the development of clean energies is ours.
To contribute to the energy mix
Today more than 80% of the energy used in the world comes from finite fossil sources such as coal, oil, uranium, gas, etc. The inevitable depletion of these fossil resources, the risks related to nuclear development, the catastrophic consequences of the continuous degradation of the ozone layer, as well as the growing energy needs of the population, are driving us to develop alternative energy solutions for the production of electricity. To reduce one's impact on the climate and to develop these alternative solutions, Europe has established the most ambitious policy in the world, thus offering a remarkable opportunity to diversify energy sources and to develop clean and renewable energies.
FUTUREN contributes to energy diversification and to the development of clean energies by producing wind based electricity.
Renewable energies have become a part of the global energy mix and wind energy in particular has an important and lasting role to play. It is not meant to replace traditional energy sources, but it represents an excellent complement.